The booking system on the web site is be available for use by members at
https://angliacroquet.uk/cbs/day.php?area=21&day=
This is to let you know that a minor upgrade to the system has now been implemented which provides a couple of new features:
All users whose email address has been registered in the user database can now use their email address as an alternative to their name/username when logging in: either will work.
All users still have the option to choose their own preference of style, whether logged in or not.
Users who have been using the booking system since before the new style was introduced will continue to see it in the old style until they choose to switch to the new style.
You can find more information via the icons next to the relevant setting options.
Finally, as some of you know, there was initially a problem using the new style for those with newer versions of the Apple Safari browser on Mac computers, iPads and iPhones. That has now been fixed, and it now works correctly as for other types of browser. However, the new style remains incompatible with version 8 and earlier of Microsoft's Internet Explorer browser, so anyone still using that old browser can only use the old style. (If they are still using IE8 or earlier, they really should stop! It hasn't been supported by Microsoft for quite a while, and Microsoft discourages its use as it is vulnerable to malware.)
1. Before you can make a booking you must log in. The Log in button is in the top right corner of the Web page.

2. Click on Log in to open the login page. Enter your user name and password. There is no need to select your Club as the auto option will do that for you.
3. If you need to change your password click on User List – below the Log in Button once you have logged in, your name will have replaced Unknown user.
4. You will only find the Edit button against your own name when you click on the User list.

5. Click on the Edit button and you will be given the opportunity to change your Password. Clicking on Save returns you to the User list. Please make sure you follow the instruction on how to create a password!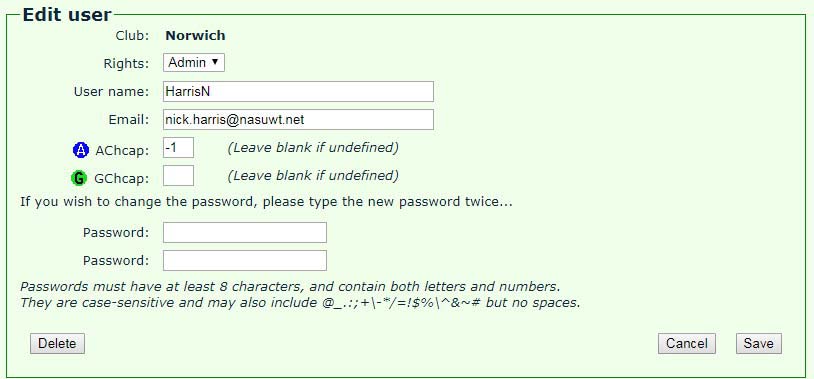 6. Click on save to return to the main screen.
7. To make a booking you will need to find the date you require using the goto button or the Calendar.
8. Pointing to any 1 hour slot in either column highlights it as a pink bar and clicking on that pink bar opens the Booking Page set to that specific day, time and session. REMEMBER (The 09:00 am slot runs from 9:00 to 10:00 the 10:00 slot ends at 11:00 so if you want to finish at 1:00 pm book the slots at 09:00, 10:00, 11:00 & 12:00. Do not book the 13:00 slot as this runs until 14:00 or 2:00 pm.

You may find it useful to practice by booking dates during next November or December when mistakes won't affect the other Club members!!
9. Enter your name or some other brief description and any other information that may be of use and set the number of hours required. in this case 3 hours from 9.00 to 12.00. Setting the type will set the colour of the booking. In this example I have chosen Association so the booking will show in blue.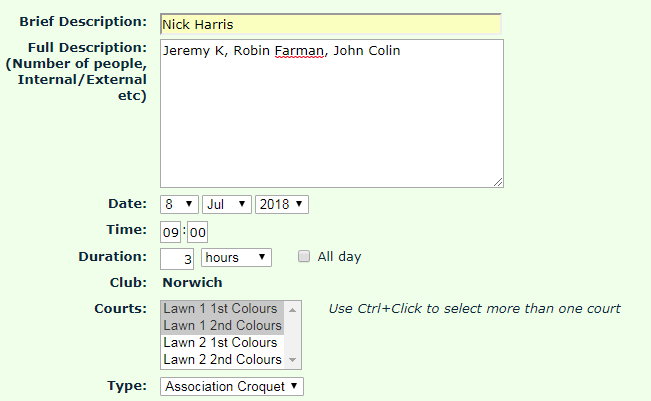 10. Scroll to the bottom of the page and click on Confirm Booking. You will be returned to the main page and your booking is complete.

11. The Completed Booking

12. You can alter or delete your own bookings (but not anyone else's) by logging in and clicking on the booking to be altered or deleted. A new page will open.
13. Pointing to the Edit, Copy, Delete list will bring up the red highlighting. Click on the action you want. The window shown in 9 above will open and allow you to edit your entry. Note: The system only allows you to edit one column at a time (first colours) if you wish to delete second colours you will need to repeat from 12.
14 Important Season Long Bookings may only be made by the Committee.
15. Finally there is a Help Page will you may well find useful.